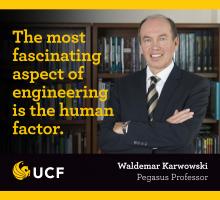 Waldemar Karwowski is a professor and chair of the Department of Industrial Engineering & Management Systems. Since joining the university in 2007, he has secured more than $2 million in funding, and has been published in many journals and edited dozens of books.
Karwowski is co-editor of the Theoretical Issues of Ergonomics, having served as editor from 2010 to 2014. As chair of the department, he has established focused research and academic programs in systems engineering and health care, streamlined graduate program offerings, and built key relationships with professional organizations and major corporations such as IBM.
He mentors dozens of undergraduate, master's and doctoral. students. During his tenure, the industrial engineering graduate program was ranked 35th in 2014, up 13 spots from the prior year by U.S. News & World Report's Best Graduate Schools guide
"I would like to note that Dr. Karwowski is one of the most productive Ph.D. advisors in the university," wrote Debra Reinhart, assistant vice president in the Office for Research and Commercialization.
"Dr. Karwowski's scholarly productivity has been extensive and of consistent high quality. He has an excellent international reputation and academic presence in human-factors engineering, ergonomics and systems engineering that now benefit UCF," wrote Charles Reilly, associate dean for Academic Affairs.
Under Karwowski's leadership, the first UCF international Bachelor of Science in Industrial Engineering degree is being offered in partnership with the Universidad San Ignacio de Loyola in Lima, Peru. Also, a fully-online master's degree in the Healthcare System Engineering program has been approved and will be offered in the fall.
"It is quite evident…that Prof. Waldemar Karwowski distinguishes himself in excellence in the areas of research and service and has had a significant impact on education," wrote Professor Emeritus Gavriel Salvendy of Purdue University in recommending Karwowski.