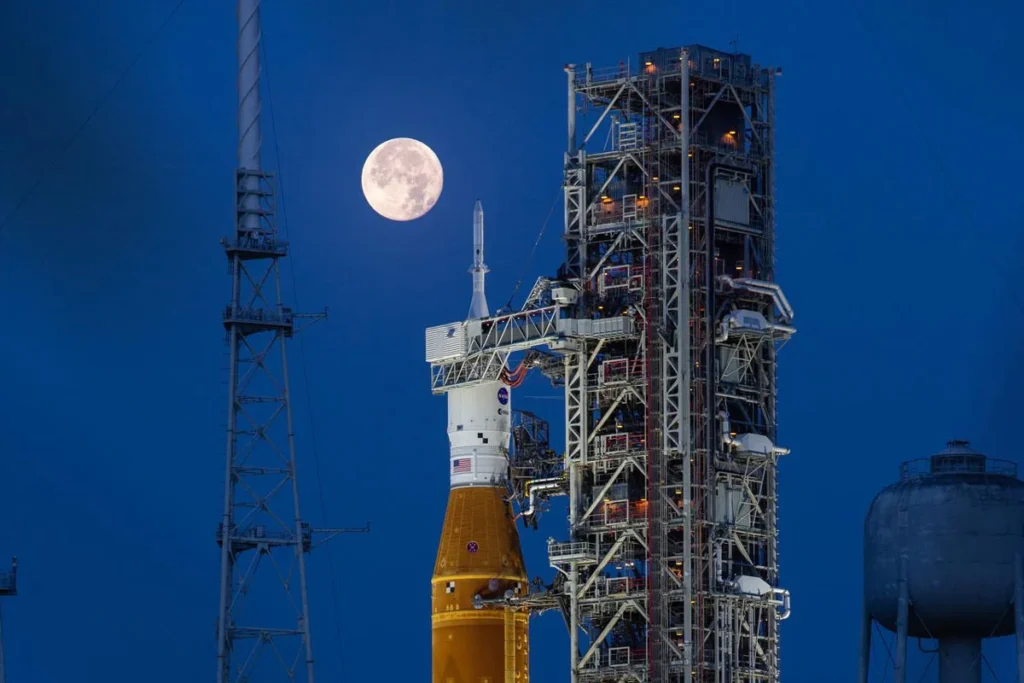 If you were to parachute into the parking lots around Kennedy Space Center (KSC), you might believe you landed on an extension of UCF's campus. Knights license plates and black-and-gold decals are everywhere.
"You should see it here during football season," says Wes Mosedale '07MS, senior test director for NASA. "That's when the colors really come out."
The UCF logos at KSC are symbolic of deeper connections: between the university and the space program, between the past and the future, between Earth and outer space, and between the Apollo missions that sent men to the moon for the first time and the Artemis 2 mission that will send men and women to the moon at the end of 2024.
"There's a lot of work to do between now and then," Mosedale says.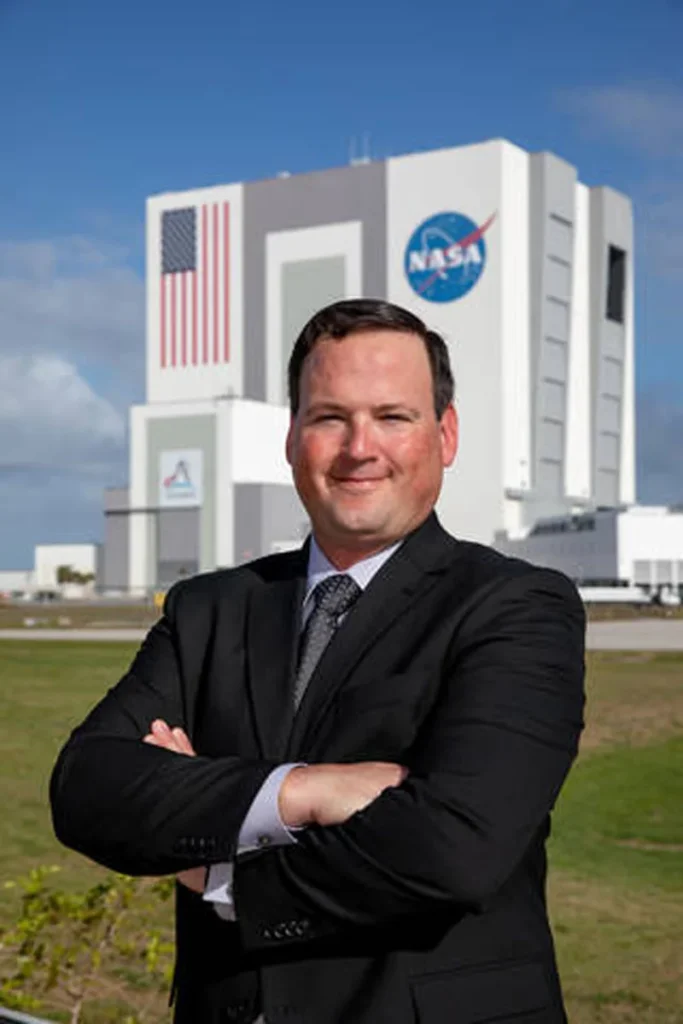 THE GRANDSON: WES MOSEDALE '07MS
Position: Senior test director
Major: Industrial engineering
This has always been a dream of mine.
I grew up on the Outer Banks of North Carolina, not far from Kill Devil Hills, where the Wright Brothers tested their first planes. Most of my interest, though, came from my grandfather. He flew Air Force One for President Kennedy. In fact, he brought President Kennedy to the Cape during the height of the space race. He passed away years ago, and I wish I could hear his stories again. I could tell him a few stories from my perspective, too.
At the moment, I'm wearing two hats.
We're applying lessons we learned during years of work on Artemis 1 to the Artemis 2 mission. A lot of us are increasing the scope of our work because a crewed mission is so complex. This time I'm involved in ground system testing and the integration of support teams as well as launch training. We'll create a launch-day atmosphere for about 30 countdown simulations, including worst-case scenarios, to make sure everyone is in sync for the real thing.
There's nothing more exciting to me than launching rockets.
Before Artemis, I had the opportunity to support close to 30 shuttle launches, but these rockets are now the biggest ever built. I can walk over to the vehicle assembly building (VAB) and see first-hand the magnitude of what we're doing. Sometimes I go there as an engineer to familiarize myself with the systems and hardware. Other times, the kid in me just wants to look at that rocket.
UCF came to me for my master's degree.
Two nights a week, professors would drive out and teach engineering management classes at our visitors center so we could complete the accelerated program while focusing on our full-time jobs here. It's a smart program because we learned without leaving this work environment.
I still use one of the first lessons from that program.
Dr. Tim Kotnour instructed us on PDSA: Plan, Do, Study, Act. It's the same process we use for Artemis. We launched the first rocket to test and validate systems, and now we're distilling everything we learned into actions for Artemis 2. Dr. Kotnour was on a Teams call with us a year ago. I hadn't seen him in 14 years, and the first thing I said, was, "Hey, Dr. Kotnour: PDSA, PDSA."
Artemis 2 has multi-generational meaning for me.
I have two daughters — 8 and 5 years old — and this mission is helping to lay the groundwork for their generation to sustain life away from Earth. But there's also the connection with my grandfather. He played an indirect part in us getting to the moon the first time and now I have a role in getting us back there, with bigger goals beyond.
Read the full version of this story by Robert Stephens in UCF Today