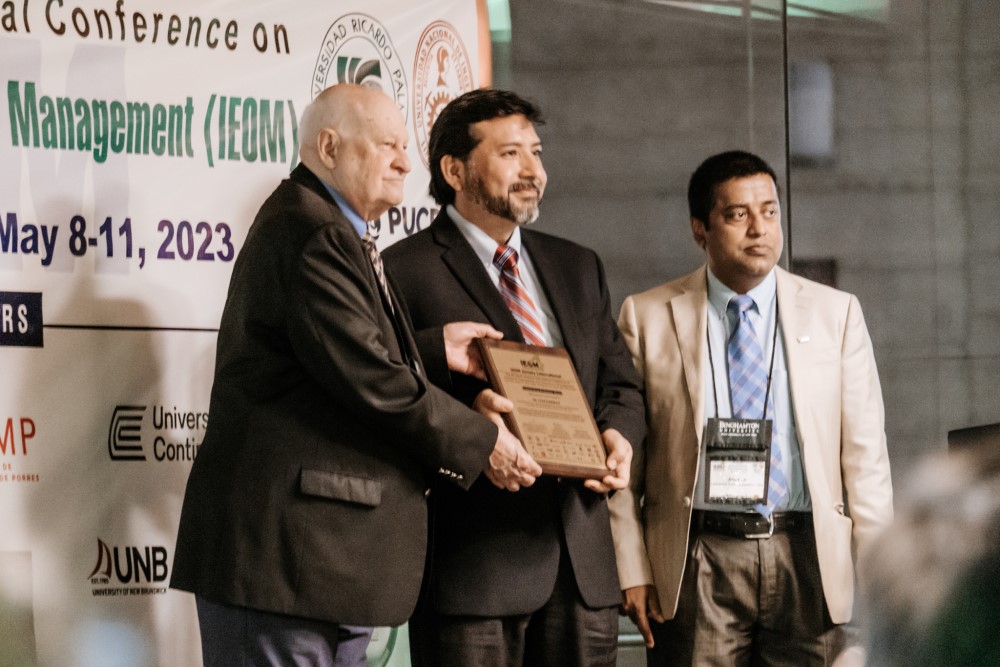 Associate professor Ivan Garibay has been awarded the Outstanding Professor Award by the Industrial Engineering & Operations Management Society International (IEOM). The honor was given in recognition of his outstanding career achievements and his contributions and service to his profession.
IOEM presented the award at its conference in Lima, Peru last month.
Garibay also had the honor of being an invited keynote speaker at the conference, where he discussed how artificial intelligence and complexity science can be combined to solve real-world complex problems like defense against disinformation campaigns in information warfare, improving large language models for social media analytics and creating accurate generative models of human behavior.
"I was honored and thrilled to be nominated for an award by IEOM and given the opportunity to deliver a Keynote," Garibay says. "It was special for me to receive an award in Lima, the city where I grew up, surrounded by friends and colleagues."
Garibay's research interests include complexity sciences with a focus on complex socio-technical-economic systems modeling and simulation. He received his Ph.D. in computer science from UCF. Before joining the College of Engineering and Computer Science, Dr. Garibay served as Director of Technology and Innovation for the Vice-President for Research. He is the director of the UCF Master of Science in Data Analytics program and director of the Complex Adaptive Systems Laboratory.