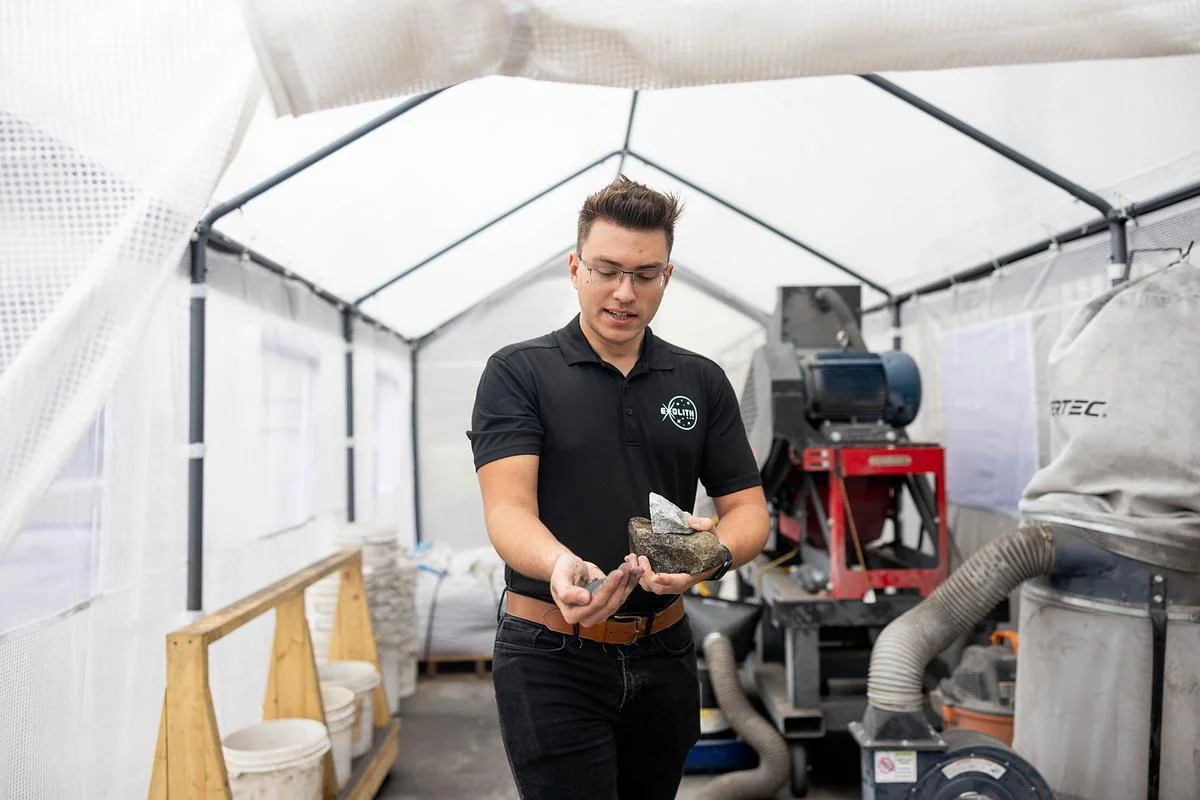 UCF partnerships bring Plant the Moon and Plant the Mars Challenge (and the closest thing to extraterrestrial soil) to K-12 students across the country.
Literally speaking, the moon is 238,000 miles from every schoolyard in the United States. Mars is an average of 140 million miles away. Figuratively, however, slices of the moon and Mars are landing in classrooms across the country. They arrive inside an 11-inch by 8-inch box. When students open the box, they pull out ph strips and an 11-pound bag of lab-made moon dust or Mars dust. There's also a list of guidelines for the Plant the Moon and Plant Mars Challenge.
"For a student in kindergarten through high school, this has to be one of the coolest projects they'll ever do," says industrial engineering major Konrad Krol, who also serves as the operations director for UCF's Exolith Lab, maker of the extraterrestrial "soils."
Plant the Moon and Plant Mars Challenges are outgrowths of a partnership between Exolith and researchers at NASA and UCF. The soils in each kit are technically "simulated regoliths" — replicates of the materials you'd find on the surfaces of the moon and Mars. They can be rooted back to samples NASA has collected over the years from the real moon and data collected from the real Mars. Researchers use the samples and data to identify mineral compositions on extraterrestrial bodies (the moon, Mars, Mercury, and asteroids). They then determine which minerals here on Earth most closely mirror the real thing. Exolith uses those findings to create recipes for the simulants.
"What we make is as close to the real thing that you can find," says Krol. "I'm still amazed every time I put my hands in it."
Two years ago, the teams at UCF and NASA decided it would be a good idea to allow curious K-12 students to put their hands in it, too. The Plant the Moon and Plant Mars Challenges bring to mind scenes from the movies Apollo 13 andThe Martian: You have 10 weeks to take what you find in the box and grow a whole-plant meal, as if you're a hungry astronaut trying to live off the fat of another planet.
As science projects go, how do you top that? The kit alone is a wonder of sorts.
Konrad Krol holds a sample of simulate soil and rocks while inside the UCF Exolith Lab
Konrad Krol holds a sample of a simulate soil and rocks used to help create it while inside the UCF Exolith Lab (Photo by Kadeem Stewart '17)
"We have to find the minerals for the recipe," Krol says. "We source them from remote regions in Greenland, Germany, Canada, and the U.S."
So, when students open that 11-pound bag and stuff their hands inside, they might not be pulling out particles directly from the moon or Mars. But it's still rare. And again, thanks to decades of research, it's close to authentic.
The participants find out real fast that nurturing a plant in space is just as the name of the contest suggests: a challenge. There are no organics on the moon. No worms. No bugs. No rose petals or coffee grounds. Students can add their own ingredients to the soil that arrives in the kit, but in the process they gain an appreciation for the goal behind decades of research: sustaining life in space.
"The students don't need a deep science background or an interest in engineering to do this," Krol says. "We've seen the challenge ignite a passion."
The passion is spreading. For the first Plant the Moon and Plant Mars Challenges in 2021, Exolith sent out kits to 40 student teams, mostly based in Florida. For the most recent Spring 2023 challenges, Exolith sent kits to 800 teams comprised of 20,000 participants from across the U.S. and Puerto Rico.
"This kind of work excites me every day," says Kathleen Loftin '89 '00MS '09Phd. As the center chief technologist at Kennedy Space Center, she leads a team of researchers discovering how to sustain life by growing food away from Earth. "For the space program to continue to push boundaries, we need people from all backgrounds involved."
NASA calls today's students "the Artemis generation." They'll be needed for expertise in business, psychology, marketing, humanities and technology — who knows, maybe for interplanetary agriculture, too.
"There should be no barriers," Krol says. "We want anyone who's curious, intelligent, or creative to have access to this challenge."
"There should be no barriers. We want anyone who's curious, intelligent, or creative to have access to this challenge." — Konrad Krol, operations director for UCF's Exolith Lab
Grants from NASA have helped get the soils into schools where the $400 kit isn't in the budget. Just as important are the video lessons from NASA experts who share knowledge that has taken several lifetimes to collect.
It's working. The projects are improving. Some of the student-made labs look like professional plant-growth labs. Students have figured out how to grow broccoli, kale, butterbeans and buckwheat. Some can't get anything but sticks to pop out of their versions of the moon and Mars.
"That's OK," Krol says. "Their findings about 'what not to do' are valuable, too."
They could win Best in Show in the category of Evaluation of Results. A team with a thriving little garden could win for Best Plant Growth. A creative idea might be in the running for Innovation, and a well-documented project for Experimental Design.
"I remember some of my school science projects," says Krol. "They were nothing compared to this. Imagine what these kids will be talking about."
For my science project … I grew mung beans on the moon. Do you want to hear about it?