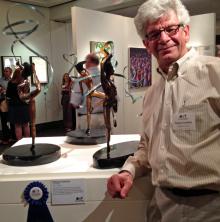 90th Anniversary 1st Thursdays: Eclectic Knights VI
September 4, 2014
Dr. Hoekstra's bronze statue series entitled Rhythmic Dancers was selected as best of show in the 6th annual event for the UCF School of Visual Arts & Design Alumni Chapter at the 90th anniversary of 1st Thursdays: Eclectic Knights VI. The show featured more than 50 works selected by the jury which were created by UCF, alumni, faculty and staff in a variety of media.
The three statues in the series features a rhythmic dance captured at moments during her performance.The statues are cast in solid bronze are approximately 22" tall and the ribbons were hand formed from spring bronze.
See Dr. Hoekstra's work displayed in the School of Visual Arts UCF Faculty Show Thursday, October 9, 2014 – Friday, November 7, 2014.
Who says engineers are not creative!